DÉCRYPTAGE – Mank et Les Sept de Chicago devancent les films des studios dans une année marquée par la fermeture des salles et la percée d'un trio de femmes cinéastes : Chloe Zhao, Emerald Fennell et Regina King. Du jamais vu pour cette cérémonie qui se tiendra le 28 février !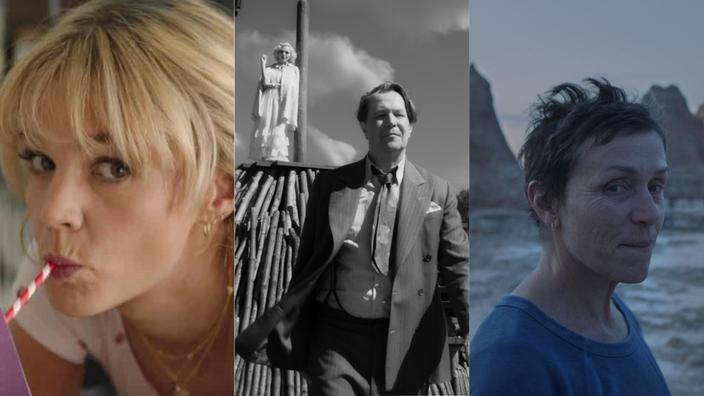 Dans une année de pandémie marquée par de longs mois de fermetures des salles de cinéma, les esprits ne sont pas forcément à la fête. Mais avec l'annonce ce mercredi des nominations aux Golden Globes, la saison des prix 2021 a bel et bien commencé et consacre, comme cela était prévisible, la puissance des plateformes de streaming. Pour la première fois, celles-ci devancent les traditionnels studios de cinéma qui n'ont cessé de décaler leurs sorties de films.
La lettre d'info Culture et Loisirs
Newsletter
Du lundi au vendredi
Recevez chaque jour l'actualité culturelle : cinéma, musique, littérature, expositions, théâtre…
Porté par les six citations du très sérieux Mank, hommage de David Fincher à la genèse of Citizen Kane et les cinq des Sept de Chicago d'Aaron Sorkin, Netflix fait la course en tête avec 22 sélections. La firme de Los Gatos est suivie par Amazon qui récolte entre One Night in Miami, Borat 2 and The Sound Of Metal sept nominations. Hulu et Apple se voient également distingués.
À LIRE AUSSI :Netflix bien placé pour faire un hold-up sur les Oscars 2021
Représentants de l'ancien ordre hollywoodien, Sony, Searchlight et Focus suivent avec cinq nominations chacun, grâce notamment à The Father, l'adaptation de la pièce de Florian Zeller avec Anthony Hopkins, Nomadland, road trip crépusculaire primé à Venise et la comédie féministe Promising Young Woman. Ces trois longs-métrages tenteront de ravir le 28 février prochain le trophée roi du meilleur drame à Mank et au très politique Les Sept de Chicago.
Dans la section comédie et comédie musicale s'opposent Hamilton (Disney +), Borat 2 (Amazon), The Prom (Netflix), Palm Springs (Hulu) and Music.
Autre révolution dans cette ère post-MeToo, les Golden Globes ont nommé une majorité de femmes dans la catégorie meilleure réalisation. En huit décennies, seules Barbara Streisand, Jane Campion, Sofia Coppola, Ava DuVernay et Kathryn Bigelow avaient brisé ce plafond de verre. En 2021, elles sont trois : Chloe Zhao (Nomadland), les deux comédiennes et réalisatrices Regina King (One Night In Miami), star de Watchmen et Emerald Fennell (Promising Young Woman) qui campe Camilla Parker Bowles dans The Crown. Elles feront face des réalisateurs, mis en minorité, David Fincher et à Aaron Sorkin.
Nomination surprise pour le Français Tahar Rahim
Cette ouverture d'esprit des 90 journalistes internationaux basés en Californie qui composent les Golden Globes a étonné. L'an passé, leur frilosité avait exaspéré Greta Gerwig (Les Filles du Docteur March) et Lulu Wang (L'adieu). Paradoxalement, relève le magazine spécialisé The Hollywood Reporter, c'est donc cette catégorie de la meilleure réalisation qui est aussi celle qui prône la diversité avec une Afro-Américaine (King) et une cinéaste d'origine asiatique (Zhao). En revanche Spike Lee reste au pied des marches. Son Da 5 Blood l'un des grands favoris de la critique, aura été snobé dans toutes les catégories. Tout comme le plus controversé Tenet de Christopher Nolan qui sauve l'honneur avec sa bande-originale.
La situation est plus contrastée dans les catégories primant les interprétations. Côté meilleur acteur dramatique, le héros de Black Panther Chadwick Boseman récolte une citation posthume for Le blues de Ma Rainey et se retrouve au côté du Britannique d'origine pakistanaise Riz Ahmed, musicien (lui-aussi) devenant sourd dans Sound Of Metal, du Français d'origine algérienne Tahar Rahim(Désigné coupable) qui créé la surprise et des vétérans Gary Oldman (Mank) et Anthony Hopkins (The Father).
Zendaya, Meryl Streep, Nicole Kidman oubliées
Chez les femmes, les actrices afro-américaines Viola Davis (Le blues de Ma Rainey) et Andra Day (The United States vs. Billie Holiday) côtoient Frances McDormand (Nomadland) et les Anglaises Carey Mulligan, jeune femme sur le chemin de la vengeance dans Promising Young Woman et Vanessa Kirby mère d'un enfant mort-né in Pieces of a Woman. Pourtant pressentie comme une prétendante sérieuse, Zendaya n'a pas convaincu les votants avec l'intense et colérique Malcolm & Marie.
En revanche aucun interprète de couleur n'a été retenu dans les catégories meilleure actrice de comédie où Meryl Streep et Nicole Kidman (The Prom) brillent par leur absence. Même chose côté meilleur second rôle féminin où Jodie Foster, partenaire de Tahar Rahim, et Glenn Close (Une ode américaine) font irruption. Dans la section meilleur acteur de comédie, Dev Patel (David Copperfield) et Lin Manuel Miranda (Hamilton) percent. Chez les meilleurs seconds rôles se glissent Daniel Kaluuya (Judas and the Black Messiah) et Leslie Odom, Jr. (One Night in Miami).
Double ration
Présentés comme un des baromètres des Oscars même si la composition de leurs corps électoraux n'a rien à voir, les Golden Globes offrent aux nommés une exposition médiatique cruciale pour espérer décrocher une invitation à la cérémonie suprême.
Moqués pour son favoritisme envers les superstars (cette année la nomination la plus improbable revient à Kate Hudson dans le polémique Music de Sia sur l'autisme),les Golden Globes ont la particularité de faire la distinction entre comédie et drame, ainsi qu'entre télévision et cinéma.
Cette inflation de prix permet à certains élus de collectionner les nominations. Héros de Borat 2 and Sept de Chicago, Sacha Baron Coen cumule deux nominations. Idem pour Olivia Colman honorée The Father et la série The Crown et Anya Taylor-Joy pour l'adaptation joyeuse d'Emma et la saga des échecs Le jeu de la dame. Comme sur le grand écran, Netflix règne sans partage, avec 20 citations, sur les catégories du petit écran grâce à l'hégémonie de The Crown, Ozark, Ratched and Emily à Paris.
En raison de la pandémie, on ignore encore quelle forme prendra la cérémonie des Golden Globes, le 28 février. Y aura-t-il des lauréats sur scène ? Se manifesteront-ils par visioconférence ? Animés par les complices Tina Fey et Amy Poehler, ils se dérouleront pour la première fois depuis longtemps sur deux plateaux : l'un sur la côte Est à New York, l'autre en Californie à Los Angeles.
Outre Tahar Rahim, les cinéphiles français guetteront une possibilité de trophée pour le dramaturge Florian Zeller et le compositeur Alexandre Desplat, seul rescapé du film apocalyptique de George Clooney, Minuit dans l'univers. Le thriller amoureux Deux de Filippo Meneghetti, candidat de la France aux Oscars, est également en lice pour le Golden Globe du meilleur film étranger.
Liste des principales nominations
Meilleur drame
The Father
Mank
Nomadland
Promising Young Woman
The Trial of the Chicago 7
Meilleure actrice dramatique
Viola Davis, Ma Rainey's Black Bottom
Andra Day, The United States vs. Billie Holiday
Vanessa Kirby, Pieces of a Woman
Frances McDormand, Nomadland
Carey Mulligan, Promising Young Woman
Meilleur acteur dramatique
Riz Ahmed, Sound of Metal
Chadwick Boseman, Ma Rainey's Black Bottom
Anthony Hopkins, The Father
Gary Oldman, Mank
Tahar Rahim, The Mauritanian
Meilleure comédie
Borat Subsequent Moviefilm
Hamilton
Music
Palm Springs
The Prom
Meilleure actrice dans une comédie
Maria Bakalova, Borat Subsequent Moviefilm
Kate Hudson, Music
Michelle Pfeiffer, French Exit
Rosamund Pike, I Care a Lot
Anya Taylor-Joy, Emma
Meilleur acteur dans une comédie
Sacha Baron Cohen, Borat Subsequent Moviefilm
James Corden, The Prom
Lin-Manuel Miranda, Hamilton
Dev Patel, The Personal History of David Copperfield
Andy Samberg, Palm Springs
Meilleur second rôle féminin
Glenn Close, Hillbilly Elegy
Olivia Colman, The Father
Jodie Foster, The Mauritanian
Amanda Seyfried, Mank
Helena Zengel, News of the World
Meilleur second rôle masculin
Sacha Baron Cohen, The Trial of the Chicago 7
Daniel Kaluuya, Judas and the Black Messiah
Jared Leto, The Little Things
Bill Murray, On the Rocks
Leslie Odom, Jr., One Night in Miami
Meilleur metteur en scène
Emerald Fennell, Promising Young Woman
David Fincher, Mank
Regina King, One Night in Miami
Aaron Sorkin, The Trial of the Chicago 7
Chloé Zhao, Nomadland
Meilleur scénario original
Emerald Fennell, Promising Young Woman
Jack Fincher, Mank
Aaron Sorkin, The Trial of the Chicago 7
Florian Zeller and Christopher Hampton, The Father
Chloé Zhao, Nomadland
Meilleur film d'animation
The Croods: A New Age
Onward
Over the Moon
Soul
Wolfwalkers
Meilleur film étranger
Drunk
La Llorona
The Life Ahead
Minari
Deux
Source: Golden Globes 2021 : Netflix et les réalisatrices font main basse sur les nominations