Un tireur, qui s'est depuis rendu, a tué au moins quatre personnes dans une synagogue de cette ville de l'État de Pennsylvanie. Le bilan pourrait être plus lourd selon certains médias américains, qui évoquent huit morts.
Un tireur a ouvert le feu ce samedi dans une synagogue de Pittsburgh, en Pennsylvanie, alors que les fidèles étaient rassemblés pour l'office du chabbat. Les médias américains évoquent la mort de quatre à huit personnes au moins. Plusieurs autres ont été blessées. Le tireur présumé s'est rendu et a été placé en garde à vue.
«Il y a de nombreuses victimes», a expliqué à la presse locale Jason Lando, le commandant de la police de Pittsburgh. Une télévision affiliée à la chaîne CBS a évoqué huit morts, dont deux policiers, tandis que la chaîne de télévision locale KDKA évoquait aussi huit morts et trois policiers touchés par armes à feu, sans préciser leur état de santé. «Le suspect de la fusillade est en garde à vue. Nous avons de nombreuses victimes à l'intérieur de la synagogue, il y a trois officiers qui ont été touchés», a indiqué aux médias sur place un porte-parole de la police.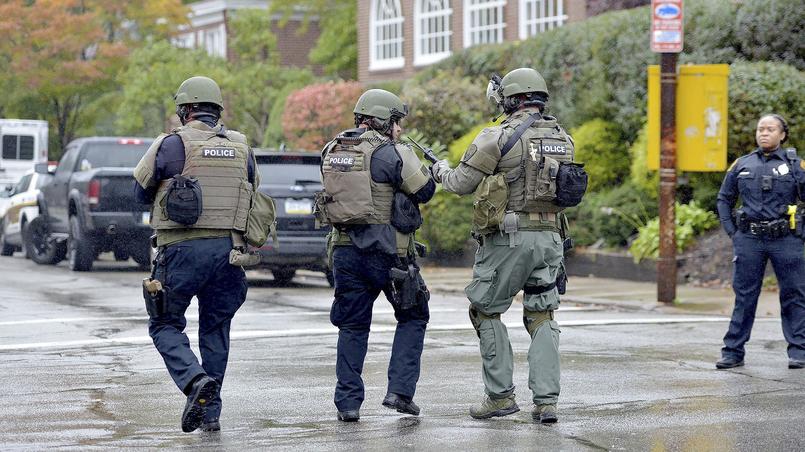 L'attaque a eu lieu dans le quartier de Squirrel Hill à Pittsburgh, centre historique de la communauté juive de cette ville du nord-est des Etats-Unis, et a visé la synagogue «Arbre de vie» (Tree of Life) où des fidèles étaient rassemblés pour un office.
L'agence fédérale chargée du contrôle des armes, tabac et explosifs, ATF, a précisé sur Twitter que des agents spéciaux se rendaient sur place. La police de New York a de son côté fait savoir qu'elle renforçait la sécurité autour des lieux de culte de la ville, avec notamment des patrouilles supplémentaires. «Il semble qu'il y ait plusieurs victimes», a indiqué Donald Trump sur Twitter, en appelant la population à rester à l'abri. «Restez sur vos gardes face au tireur», a-t-il averti.
«Les événements sont beaucoup plus dévastateurs que prévu. J'ai parlé avec le maire et le gouverneur pour les informer que le gouvernement fédéral a été et sera avec eux tout le chemin», a déclaré le président une heure plus tard, informant qu'il ferait «sous peu» une déclaration aux médias. «Mon coeur saigne après les nouvelles venant de Pittsburgh. La violence doit s'arrêter», a de son côté écrit sur le réseau social, la Première dame Melania Trump.
Cette attaque, dont les motivations n'étaient pas immédiatement claires, a jeté la consternation dans la ville. «Je suis juste triste. Je ne sais pas quoi vous dire (…) ça ne devrait pas arriver, point. Ca ne devrait pas arriver dans une synagogue», a déclaré sur CNN, Jeff Finkelstein, le président de la «Jewish Federation of Greater Pittsburgh». «A la suite de cette tragédie, nous devons nous rassembler et prendre des mesures pour empêcher ces tragédies dans le futur. Nous ne pouvons accepter comme normale cette violence», a de son côté tweeté le gouverneur de Pennsylvanie Tom Wolf, précisant avoir mis à disposition tous les moyens nécessaires pour les premiers secours.
---
Source: ©  Fusillade à Pittsburgh aux États-Unis : plusieurs morts dans une synagogue