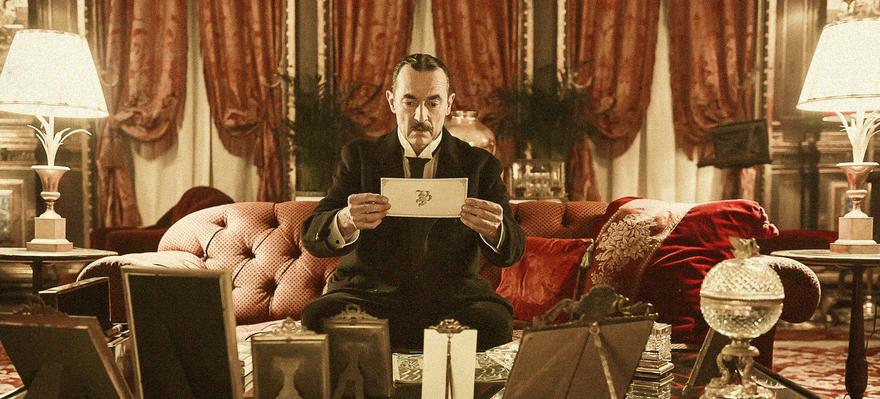 The event has become an unmissable event. The jury, chaired by John Malkovich, will decide between ten films.
The kickoff of the 10th edition of the Francophone Film Festival will be given this Tuesday evening with the screening ofGoodbye up there from and with Albert Dupontel. This expected adaptation of Pierre Lemaitre's novel (Prix Goncourt 2013) will be released in cinemas on October 25th.
The general delegate of the festival, Dominique Besnehard, foresees a lot of "emotion" between the ten films in competition and the fifteen previews proposed: "If there is a theme, it is the style" J'me saw already ", Success and ambition, as Maryline of Guillaume Gallienne on a young woman who wants to become an actress, Tomorrow and every other day of Noémie Lvovsky, the first film by comedian Nawell Madani (That's all for me!), The Prize for Success, on the ascent of a Teddy Lussi-Modeste's one-man-show or Surface to repair which reveals the backstage of Christophe Regin's football. "
Dominique Besnehard, organizer with Marie-France Brière, "works all year" but does not disdain Cannes. So, the excellent Small farmer, by Hubert Charuel, will be in the running for the trophy for best feature film. "I often like movies coming out of Critics' Week," says creator of the series Ten percent who had already programmed Hippocrates from Thomas Lilti to Angoulême.
If, ten years ago, Dominique Besnehard had predicted that the Angoulême Francophone Film Festival would still be there, would he have believed it? "We launched it in a slightly unconscious way, but it worked," says the former star agent. Not very proud to receive this year John Malkovich as president of the jury, which will be notably surrounded by Laura Smet, Lucas Belvaux, Denise Robert, Claire Chazal or Philippe Besson. "It's been a long time since I wanted a francophone actor of this caliber," he says.
Over the years, this meeting saw Nathalie Baye, Sophie Marceau, Isabelle, Adjani and Huppert, and this week Catherine Deneuve and Gérard Depardieu (at the poster of Good apple, a comedy by Florence Quentin) has earned its acclaim.
Dominique Besnehard, who is waiting for the Minister of Culture on Sunday, returns to the beginnings: "Marie-France Brière had taken a step back from the TV production and I had just left Artmedia. We wanted a historic place, we found Angoulême - and a theme. There was no francophone film festival in France. We are two different monsters, we fought - do not go back to my Ségolènemania! -, received political support, sponsors too and managed to convince us that our festival was not just an end-of-season meeting with friends. "
Soon, Cédric Klapisch, Fabrice Luchini or Gérard Jugnot responded. "From'Untouchables, Olivier Nakache and Eric Toledano with Omar Sy, the festival became a must, but it took four years. The film was a tsunami at the end of its projection, "recalls Dominique Besnehard.
The two directors return from elsewhere in the Angoumoisine city with The meaning of the party. "I am fascinated by stars and glamor, but I also love deep France, listening to people on the street, this festival brings them together, there is the cinema dream and the reality of the viewer", adds the former agent .
Francophone Film Festival, Angoulême (16), August 22-27. To see also "120 years of Gaumont", exhibition at Paradis Magelis studio in Angoulême. Free access.
Ivory Coast in the spotlight
After Lebanon, Ivory Coast is the guest of the 10th Francophone Film Festival of Angoulême. For the greatest "pride" of the Minister of Culture, Maurice Bandaman: "This is one of the most important Francophone festivals and proof that Côte d'Ivoire is doing a good job and encouraging filmmakers and producers" , summarizes the latter.
Ten feature films representative of the African society of authors as diverse as Philippe Lacote, Sidiki Bakaba or the late Désiré Ecaré and Henri Duparc will be screened in Angoulême. Maurice Bandaman believes that they reveal a "modern" cinema.
"Since the 1970s, directors have been dealing with the contradictions of Côte d'Ivoire, relationships between men and women with humor, especially Henri Duparc's, of conflict, war, politics and culture, and also sharing and tolerance, "he enthuses.
According to him, an aid fund allows him to "develop Ivorian cinema, promote it and train directors". However, this last "pain" to impose in France and in the world. "It can be reborn with the will of government and private and the selection of African films in major festivals like Cannes, where Timbuktu was selected in 2014, "says Maurice Bandaman. And, confident, he evokes the ten shootings in progress in his country.
---
The editorial advises you:
---
---
Source: © Le Figaro Premium - French-language film festival in Angoulême: 10 editions already!