AUDIO - As part of our partnership with Joe Wright's movie, theatrically on Jan. 3, Le Figaro proposes an audio series in collaboration with Création-Collective. This first of the eight parts is held in May 1940, when the appointment to the post of prime minister of a man who would make history.
The voice we hear is that of General Hastings Ismay, the deputy director of Winston Churchill's cabinet. Throughout the Second World War, this soldier followed the British Prime Minister. It served as a relay between the staff and the executive for all strategic decisions.
On May 8, 1940, England and France were at war with Germany for eight months. But we are talking about a "strange war" since, in fact, very few fights occur.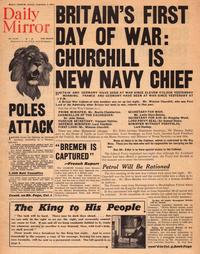 Winston Churchill is then minister of the Navy and carries the title "so british" of "First Lord of the Admiralty". He scrapes in the House of Commons about the Narvik operations that unite French and English against the Third Reich for the defense of attacked Norway. But the minister's plan is disputed because it does not produce the desired effects. The Germans will eventually stay in Narvik until 1945. Prime Minister Neville Chamberlain, Negotiator infamous "Munich agreements", concentrates all the attacks on the chamber, whether they come from the Labor opposition as from the ranks of the conservative majority.
But Churchill is not in the odor of sanctity among parliamentarians either. His liabilities during the battle of the Dardanellesduring the First World War continues to pursue it.
As early as 1915, Winston was his Majesty's First Lord of the Admiralty. And it is blamed for the loss of 50,000 British soldiers, all dead at Gallipoli. At the time, his tactical choices were strongly criticized, especially by the Conservatives demanding his resignation. When he spoke in the House of Commons in May 1940, everyone remembered this strategic mistake.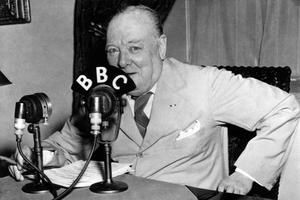 In the bedroom, David Lloyd George speaks. He is 77 years old and will die at the end of the war in 1945. Everybody listens to him because he was prime minister between 1908 and 1915, in the midst of international disaster. The old parliamentarian is publicly questioning the preparations for the Battle of Narvik. He solemnly requests the resignation of Chamberlain. It will run two days later, May 10.
To replace him, everyone is well aware that it takes a real warlord capable of raising the crowds and lead the country to victory against the murderous and liberticidal ideology of National Socialism. The choice is quickly made on Winston Churchill who, despite some reluctance, receives many praises for him. At age 65, he becomes for the first time prime minister of a United Kingdom in a storm.
»READ ALSO - Churchill, in the service of his majesty: episode 2 of our series on The dark hours
AUDIO SERIES CREDITS
1940, Winston becomes Churchill, an audio fiction in partnership with Le Figaro. A Collective Creation and Binge Audio production for Universal Pictures. With the voice of Paul Bandey and Adelaide Bon. Author: Alexandre Lenot. Director, original music and mixing: Théo Boulenger. Art Director: Julien Cernobori
---
Source: Churchill, Warlord: Episode 1 of our audio series on The Dark Hours